IRISH CLASS OF 2021 INFORMATION PAGE

SENIOR Class can order Hawaiian Lei's for graduation.  They can be picked up or delivered to school.  lei promo (1)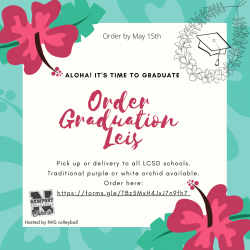 As we move toward the May 1st deadline to accept college offers, I want to reach out to all of you to remind you that you should be completing scholarship applications.  You can go to our website under ACADEMICS and Class of 2021 Scholarships.  There you will find hundreds of scholarships, including the Lincoln County Foundation scholarships as well as many others.  You should check our site every week.  I upload scholarships as soon as I receive them.
APPEALING FINANCIAL AID OFFERS TO ASK FOR MORE AID
What if you receive the financial aid package from a school and it's not as much money as you need to afford to attend?
1.  You can appeal the offer and ask for more money.  Some schools have a specific process for that appeal and others don't.  You can search their site for "Financial Aid Appeal" to see if they have a formal process. Reach out to me if you have questions about that. Appeals go through the Office of Financial Aid.
2.  Go to the financial aid website for every college/university that you are applying to.  They usually have scholarships specifically for their college on their websites.  Some of those require you to fill out an application, others don't.  Make sure you are completing all of the scholarship applications that you can!!
3.  Aside from the financial package appeal, you can contact the office of admissions to ask for more Merit Aid.  Admissions usually handles the Merit Scholarships (these are solely based on your academics, not on your family finances).  They have different levels of merit scholarships, so maybe you are only getting the middle amount.  You won't know until you call them. If that school is your #1, then you can use that as a bargaining tool. 
Here is a link for more information:
Good Luck!!   Contact Mrs. Krouse if you have specific questions.
Essential Skills Scores and Personalized Education Plans (Senior Projects) are not graduation requirements for the Class of 2021.
Any student who wants to apply for an honors diploma can use the form on the Class of 2021 Google Classroom with Mrs. Krouse.   The deadline to submit is February 12, 2021.
Mrs. Krouse will be in contact with each senior to confirm and assist with post-graduation plans.
If you need anything, reach out to us.  We are always here to support you even if it looks a little different now.
If you have taken dual credit classes while at WHS and you need your transcript sent to a college you are applying to, you will need to contact the dual credit college to request the transcript.  If it was Oregon Coast Community College, you can just log in to your My OCCC portal to request the transcript.   If you took a dual credit class through Oregon Institute of Technology, you have to use the login credentials you were provided in the class to access the transcript request.  If you have misplaced that info, go here:  https://www.oit.edu/registrar/student-records/transcript-request
Information on Cap & Gown :  Order on Miners site   HERE