We envision a school that provides challenging opportunities in a culture where an authentic enthusiasm for learning exists. One where all strive to be responsible, motivated citizens of strong character. One that contributes to the development of our community and promotes a passionate commitment to Irish Pride.
---
Our Mission
The mission of Waldport High/Middle School is to prepare students to be productive citizens by developing a strong work ethic and the higher-level critical and creative thinking skills that prepare students for college and 21st century careers.
---
Core Values We Believe In…
A safe, supportive, and respectful learning environment.
Integrity. Pride. Responsibility. Compassion.
Positive student, staff, family and community relationships.
Leadership through character development.
Collaboration and team building. Participation in athletics and extracurricular activities.
Appreciation for creativity and the arts.
Workplace experience through business internships and job shadowing.
The curiosity, adaptability, and initiative to be influential in a technological society.
Effective communication skills.
Empowering students to learn at their own pace and through the lens of their own interests.
Personalized support systems to help every student succeed. Failure is not an option.
---
College Level Courses
College level courses offered on site, in collaboration with accredited colleges/universities:
Writing 121, 122 (Oregon Institute of Technology)
Writing 123 (Oregon Coast Community College)
Math 95, 111, 112 (Oregon Institute of Technology)
19th and 20th Century World History (Oregon Institute of Technology)
Anatomy and Physiology (Oregon Institute of Technology)
Advanced Placement courses include:
AP Environmental Science
AP Language
AP Literature
---
Plans & Reports
---
About Waldport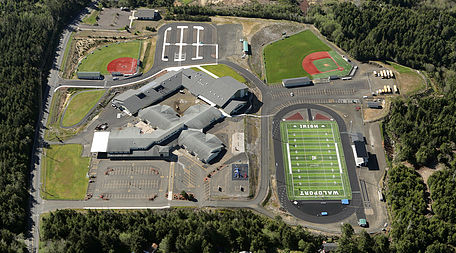 The first settlers on the peninsula floated down the Alsea River in the late 1870s and named Waldport. The name stems from the German word "wald" for forest and "port" for the location. In October of 1879, David and Orlena Ruble laid out the City of Waldport, using the nighttime stars as their survey guide. The city was chartered in 1890 and incorporated in 1911. The town site is an old Indian burial ground. A point south of town bears the name of Chief Yaquina John, one of the last of the Alsi tribe members. (2015, December 13). Retrieved from http://www.waldport.org/AboutWaldport.php
Today, Waldport is a city in Lincoln County and the high school, established in 1903, serves a community population of approximately 2,050 from Yachats to South Beach. The WHS student population is approximately 185 students in grades 9-12. We are the Fightin' Irish with kelly green, white and black as our school colors. Waldport High School is known for its individualized attention to students, with an emphasis on science, technology and the arts.