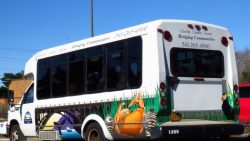 The Lincoln County Transit has just announced a new program is ready to roll out allowing any Lincoln County School District high school student a free ride anywhere in the County. This includes all of the County high schools and charters serving grades 9-12: Toledo High School, Waldport High School, Newport High School, Taft High School, Lincoln City Career Tech High School, Siletz Valley High School, and Eddyville Charter High School.
According to Cynda Bruce, Director of Lincoln County Transit, "We are excited to be able to offer this service to our students, grades 9-12, throughout Lincoln County.  This will open many opportunities for them from after school events to summer jobs!  We look forward to watching our students become familiar with the transit system. Funds are provided using the State Transportation Improvement Fund money. Any student in high school will simply need to display their current student body card to the bus driver as they enter the bus.
All Lincoln County Transit drivers are ready to start. This program came out of Section 122 of Keep Oregon Moving (Oregon House Bill 2017) which established a new dedicated source of funding for "improving or expanding public transportation service in Oregon." This funding source is called the Statewide Transportation Improvement Fund or STIF. (More information can be found on the STIF website: https://www.oregon.gov/ODOT/RPTD/Pages/STIF.aspx
"We appreciate Lincoln County Transit's efforts to expand services to high school students. We live in a very large county and this will help many students get connected to resources, programs, and employment." Katey Townsend, HELP Program Coordinator for Lincoln County School District.
For the students who are without a reliable source of transportation, this will allow for more security to attend after school functions, travel to work on a schedule, go to shopping areas and it will be an asset to any high school student who will be able to count on a ride to explore our county.