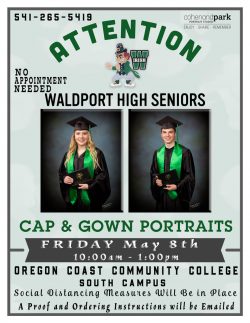 Just a friendly reminder that Waldport High School's Senior portraits will be taken tomorrow from 10:00-1:00 at the Oregon Coast Community College building here in Waldport! Your caps and gowns will be at the college ready for you to unpack and put on. We ask that you keep all social distancing guidelines in mind so we can make this a smooth and safe process. If you did not order a cap or gown, please come anyway, we will have single use gowns available for you and we will work with you on ordering your own if you so choose.
Also, you can take this opportunity to turn in all of your books and other checked out materials including your Chromebook AND CHARGER
Can't wait to see EVERYONE!!!