Waldport High School had 14 students participate in the Oregon FNRL (Future Natural Resource Leaders) State Convention which was held virtually on May 14. Out of the 14 students 9 placed. Resulting in 56 points for Waldport with second place going to Tillamook HS (36 points) followed by Clatskanie with 34 points for 3rd place. (Envirothon is separate from FNRL)
The Oregon FNRL (Future Natural Resource Leaders) is a Career Technical Student Organization that is dedicated to the support of high school students who are interested in pursuing educational and career opportunities within the Natural Resources / Forestry sectors.
Jeff Skirvin, Natural Resources and Career and Technical Education (CTE) teacher at Waldport High School is very proud of the students. He said, "they worked so hard throughout the year and deserved to be recognized for their skills. The skills and competitions included job interviews which were done in a Google Meet, tree identification of more than 90 species from Western and Eastern regions, log scaling, business math, speech, written expression in which students wrote a letter to an editor of a paper about a natural resource, and Envirothon."
One of the students who participated, Mick Greenwood, "We had always placed well in our athletic events before COVID, but to find out our strength was in the academic portion of forestry was a really exciting surprise. Oregon is a leading timber producer in the nation, and for Waldport to represent, that is a huge compliment." Another, Kaden Simmons, (in image scaling a tree), reports that,"I feel I did pretty well in the competition, but I am more proud of the other students for participating in the event, even though these Forestry events are pretty new to our school. This is very important to me because we have worked hard on practicing our physical and mental events, and I am very happy to see that Waldport did so well. It is also very important that Waldport did so well because I want people to know Waldport for its Forestry team and its hard working students."
Students will take many of these transferable skills and apply them throughout their professional and personal life. Plans are being made for many courses to engage students in CTE offerings next year when school resumes.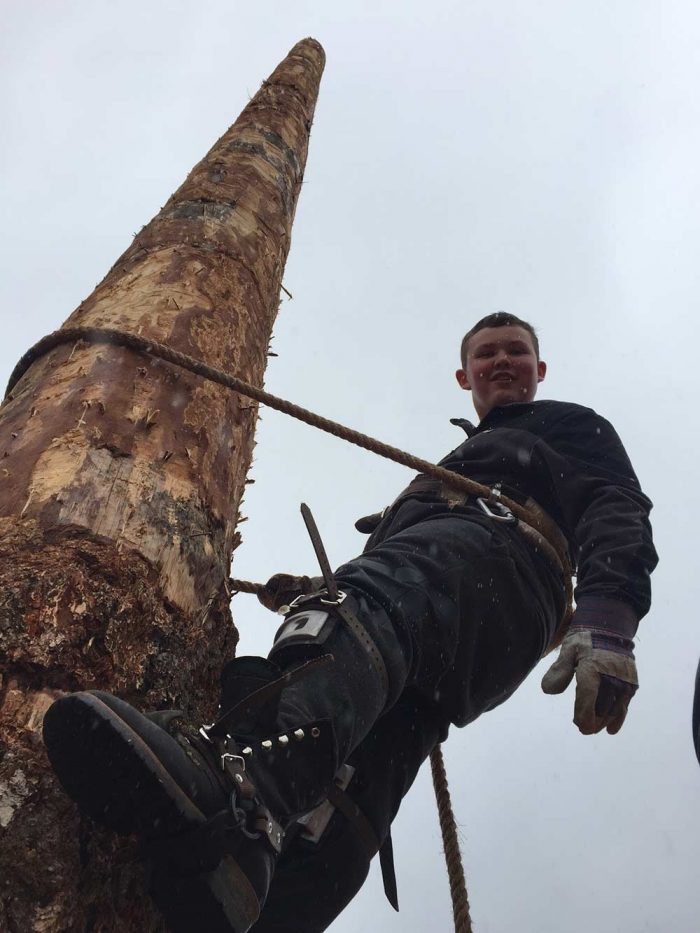 ---
Waldport High School hizo que 14 estudiantes participaran en la convención estatal FNRL (Futuros Líderes de Recursos Naturales) de Oregon, que se llevó a cabo virtualmente el 14 de mayo. De los 14 estudiantes, 9 fueron colocados. Resultando en 56 puntos para Waldport con el segundo lugar para Tillamook HS (36 puntos) seguido de Clatskanie con 34 puntos para el 3er lugar. (Envirothon es independiente de FNRL)
Oregon FNRL (Future Natural Resource Leaders) es una organización de estudiantes de carreras técnicas que se dedica al apoyo de estudiantes de secundaria que están interesados ​​en buscar oportunidades educativas y profesionales dentro de los sectores de recursos naturales / forestales.
Jeff Skirvin, maestro de Recursos Naturales y Educación Técnica y Profesional (CTE) en la Escuela Secundaria Waldport está muy orgulloso de los estudiantes. Él dijo, "trabajaron muy duro durante todo el año y merecieron ser reconocidos por sus habilidades. Las habilidades y competencias incluyeron entrevistas de trabajo que se realizaron en una reunión de Google, identificación de árboles de más de 90 especies de regiones occidentales y orientales, escalamiento de registros, matemática empresarial, discurso, expresión escrita en la que los estudiantes escribieron una carta a un editor de un documento. sobre un recurso natural y Envirothon ". (edite o revise si lo desea)
Uno de los estudiantes que participó, Mick Greenwood, "Siempre nos habíamos colocado bien en nuestros eventos deportivos antes de COVID, pero descubrir que nuestra fortaleza estaba en la parte académica de la silvicultura fue una sorpresa realmente emocionante. Oregon es un productor líder de madera en la nación, y para Waldport representarlo, es un gran cumplido". Otro, Kaden Simmons, (en la imagen que escala un árbol), informa que "siento que me fue bastante bien en la competencia, pero estoy más orgulloso de los otros estudiantes por participar en el evento, a pesar de que estos eventos forestales son bastante nuevos". a nuestra escuela Esto es muy importante para mí porque hemos trabajado mucho para practicar nuestros eventos físicos y mentales, y estoy muy feliz de ver que Waldport lo hizo tan bien. También es muy importante que a Waldport le haya ido tan bien porque quiero que la gente conozca a Waldport por su equipo forestal y sus estudiantes que trabajan duro ".
Los estudiantes tomarán muchas de estas habilidades transferibles y las aplicarán a lo largo de su vida profesional y personal. Se están haciendo planes para muchos cursos para involucrar a los estudiantes en las ofertas de CTE el próximo año cuando se reanude la escuela.
Se adjuntan imágenes de la Conferencia de tala de Oregón, donde Waldport High School ocupó el segundo lugar en la demostración de estilo relevo y la estudiante de Waldport High Kayden Simmons trepando por un árbol.